Mask Making Workshop in Florence, Italy
Design Your Mask And Watch It Come To Life
Mask Making Workshop in Florence, Italy
A chance to work with professional mask maker Roberto Andrioli and create your own masks.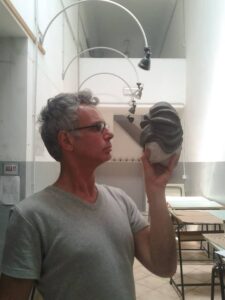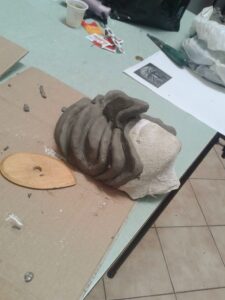 This 2-week Mask Making workshop takes you deep into the Mask-Making world. You will learn Mask Design which includes sculpture for leather masks, mold making, leather molding, cutting and trimming, and coloring and finishing. You will also learn the history of the mask and about some Commedia dell'Arte character types.
This Mask Making workshop includes basic supplies such as clay, sculpture tools, master mold making material and some finishing materials though some other materials you may need to purchase. You will finish this class with two masks and the knowledge of the process and experience to create more masks.
Two weeks of the Mask Making workshop include:
History of the mask
Physiognomy
Commedia characters types: Zanni, Pantalone, Capitano, Brighella, Arlecchino, Dottore, Pulcinella,
Sources: paintings, scripts, antique documents, video…
Relation with animal shapes
Design of the mask
The first plaster mold from the face
The creation of the character mold in clay or plastiline
The negative mold in plaster
Positive mold…
The work with the leather on the positive mold
Cutting the border and the eyes of the leather mask
Coloring the mask
Working with the masks: some points of acting mask techniques
Possibility of covering:
History of the costumes of Commedia characters
Theatre make up lesson for the Commedia theatre
It's all about the experience
The Mask Making workshop will be 4 hours per day and participants will have the late afternoon, evening and weekend free to explore Florence and Tuscany. The course will take place in Florence, Italy. Participants can combine this course with the Commedia dell'Arte workshop which takes places before this course.
*Group Rates Available. Please contact us for discounts. 
Participants will have the option of participating in various excursions (some are at an additional cost).
Roberto Andrioli is a leather masks maker, actor, director, play-writer, trainer and set designer. Graduated in 1996 at the Drama Academy of Piccolo Teatro in Milan directed by Giorgio Strehler, Master in Theatrical Pedagogy at the Brescia University in 1997, Internship at La Mama Experimental Theatre Club in New York in 1998.He began to study Commedia dell'arte with the Master Ferrucio Soleri at the Piccolo Teatro in Milan using leather masks made by Sartori Workshop.
He spent a period of artistic collaboration at La Mama experimental Theatre club in New York City in 1999 and 2000. In that period he began to make leather masks by himself and lead his own  international Commedia workshops.
He makes masks for the traditional Florence theatre makeup bottega Filistrucchi,  Teatro di Pontedera, Teatro stabile toscano Metastasio in Prato,  French theatre company J.F.Duroure and other professional Commedia Actors and teachers. Roberto uses his own Commedia masks in his international Commedia workshops done for Vignale Danza teatro Festival, Teatro Piccolo  in Rome, various American universities and the Art Conservatoire of Strasbourg.
He has worked in many productions and cultural projects in Italy and abroad: Piccolo Teatro in Milan, La Mama E.T.C. New York, The Jean Francois Duroure Theatre-dance Company in France and East Europe, The Baltinsky Dom in San Petersburg, Teatro Stabile della Toscana, La Corte Ospitale of Rubiera, Teatro Moderno of Rome and many others.
Destination

Dress Code

Casual, comfortable and light
Gallery
Images from previous years.